2 minutes reading time
(445 words)
Theresa Nguyen & Eric Reutter Present Estate Planning to Seattle's Women Leaders International Networking Group

Women Leaders International Networking (WLIN), based in Seattle, WA, is a connective group of entrepreneurial women building strong values and work ethic within our community. By promoting entrepreneurship and sharing insightful personal development tools and perspectives, WLIN is committed to helping underprivileged women of all backgrounds grow and prosper.

Financial education, such as understanding Estate Planning and it's benefits to each person, is an essential part of their agenda. Theresa Nguyen J.D. LL.M. and Eric Reutter J.D. LL.M. were invited to a luncheon to help explain and bridge the gap between the allure of Estate Planning and it's actual economical impact on an individual or family.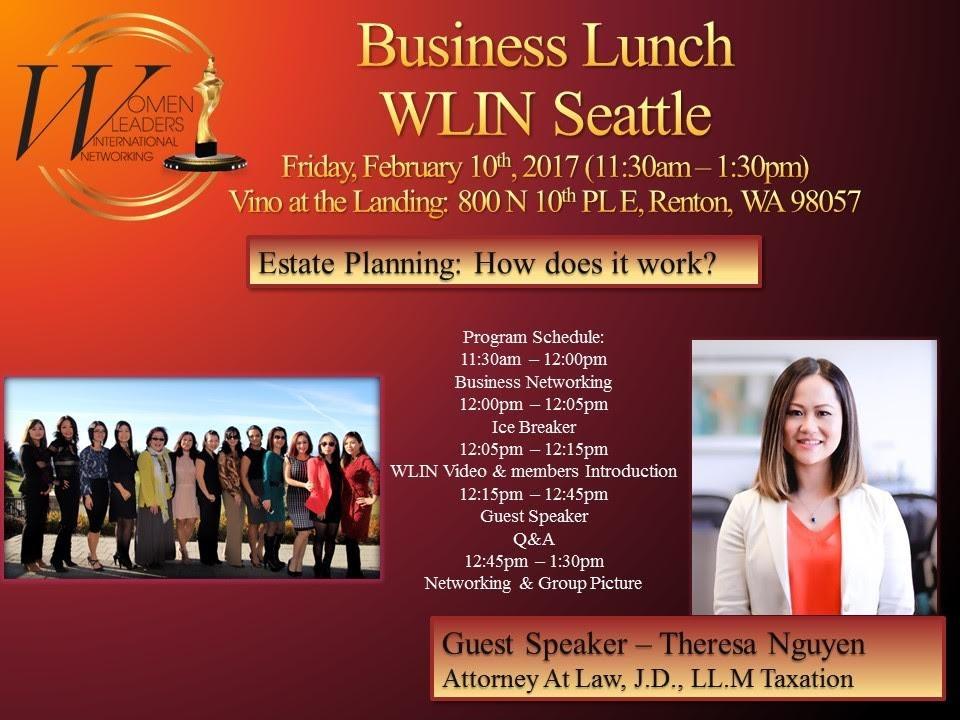 As part of WLIN's initiative to financially educate its members, the group hosted a business lunch revolving around the topic of "Estate Planning: How Does it Work?" The honor of presenting the topic was offered to the members of the Law Office of Theresa Nguyen, PLLC and we gladly accepted the opportunity to share the knowledge.

Theresa and Eric are Estate Planning attorneys who works on both sides of Estate Planning - 1) creating the Estate Plan and 2) Probate, or executing it upon one's death. Having worked intricately on these matters, Theresa crafted a presentation that was both engaging and informative for WLIN members. In addition, the members in attendance received our brochure along with additional reading material on Estate Planning.

The presentation was followed by a session of Questions and Answers where Eric took charge and addressed the plethora of inquiries that followed.  When it comes to Estate Planning, no one, not even Theresa, can match the enthusiasm and information that Eric provides. There was no rock left unturned as Eric did a fascinating job engaging with the audience and explaining the complex subject. 

Thank you WLIN for allowing us to share this passion of ours with you. We intend to nurture strong ties between our organizations as we both seek to enable our community to grow in positive ways.

If you were in attendance, please leave a comment below and share your opinions with us! Any feedback is appreciated!

If you'd like to know more information about our Estate Planning services, please visit our Estate Planning Presentation, call us at (425) 998-7295, email us at info@tnguyenlaw.com or submit a form on our Contact Us page.


---

Theresa Nguyen J.D. LL.M. is managing member of the Law Office of Theresa Nguyen, PLLC and is focused on building lifelong relationships with our clients through Results and Customer Service. Visit our Estate Planning Presentation!


---

Eric Reutter J.D. LL.M. is our Estate Planning attorney who enjoys creating unique & holistic estate plans that cater to each person's true wishes and desires. 


---