1 minute reading time
(250 words)
Theresa Nguyen J.D. LL.M. Presents 'Advising the Client with IRS Tax Debt' on Behalf of LawPro CLE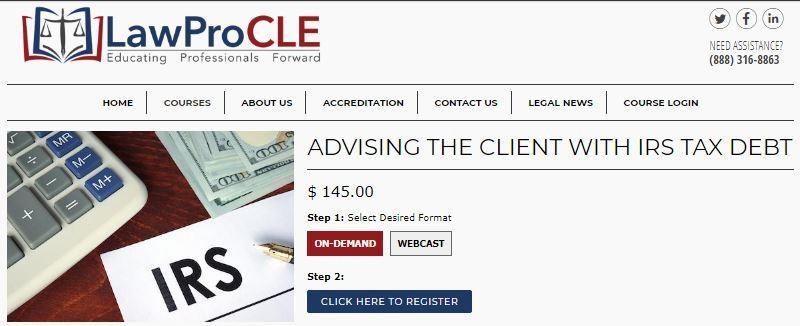 Theresa Nguyen J.D. LL.M. once again joins forces with LawPro CLE, a national continuing legal education company from Covington, to share knowledge and wisdom with her fellow peers. This time, it's to present 'Advising the Client with IRS Tax Debt' in a live broadcast on Friday, December 1st, 2017 at 10:00 am PST or on-demand recording.
This course is a benefit for attorneys as well as financial professionals, such as accountants and CPAs. Both Tax Law and the IRS play a large role in everyone's life and some times, offering comprehensive and quality services in family, business, real estate or immigration law requires some basic knowledge of tax law and how the IRS operates.
The CLE presentation is split into two sections with Eric Reutter J.D. LL.M. explaining the step-by-step process of getting results with the IRS. First, for those interested in this field as a career and passion, Mrs. Nguyen discusses the business and service aspect. Topics include:
Clientele - Who are your clients?
Pricing
Intake Questions
Consultations
Case Scheduling
Practice Materials - How to Navigate the Codes, Regulations and IRMs
How to Build a Tax Client Base
Working with IRS Agents, Officers & Counsel
Eric Reutter J.D. LL.M. will go into detail what is involved in: 
Tax Liens
Offers in Compromise
Installment Agreements
Innocent & Injured Spouse
Tax Court
Tax Debts & Divorce
Trust Fund Recovery Penalties
Collections
Mr. Reutter has also contributed in the Probate CLE course and has only been a valuable asset to our team!