2 minutes reading time
(475 words)
SCAM ALERT: Distraint Warrant from King County Tax Resolution Unit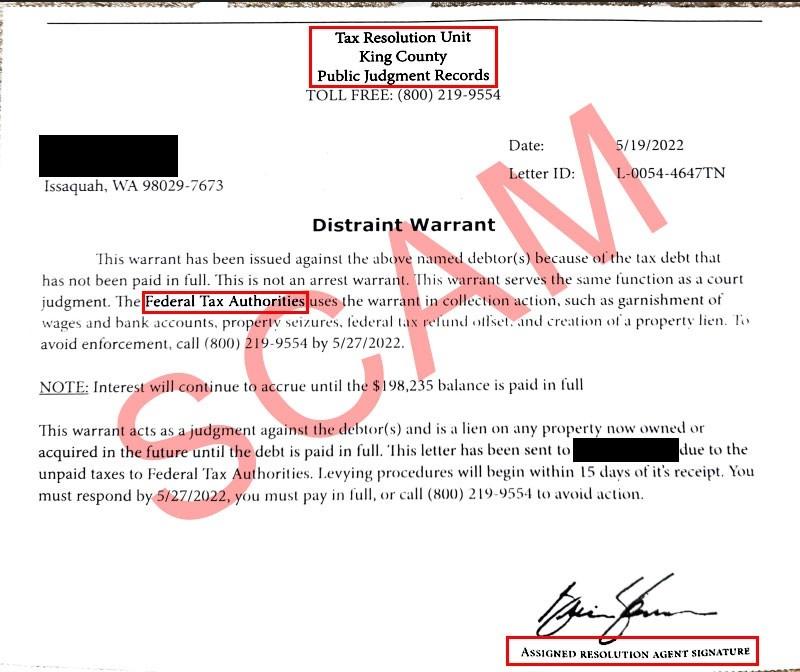 A client of ours has recently reached out to us concerning a letter they received in the mail from the "King County Tax Resolution Unit - Public Judgement Records" for a "Distraint Warrant" claiming that a warrant has been issued because of a tax debt that has not been paid in full.  It attempts to scare the recipient and elicit a response via phone call within 15 days of receiving the letter.

IT IS A SCAM!


It is neither from King County nor any other government agency and should not be taken seriously, reported to the Washington State Office of the Attorney General and discarded. From analyzing the letter, we can see that this is fraudulent because:
The logo is not the King County logo.
No such department.
No return address.
A King County letter being sent from Sacramento, CA.
There's only one point of contact, the phone number, to lock you into (funneling) taking only the action they want you to take.
A local county would never send correspondence for a "federal tax debt."
No representative name, just "Assigned Resolution Agent Signature."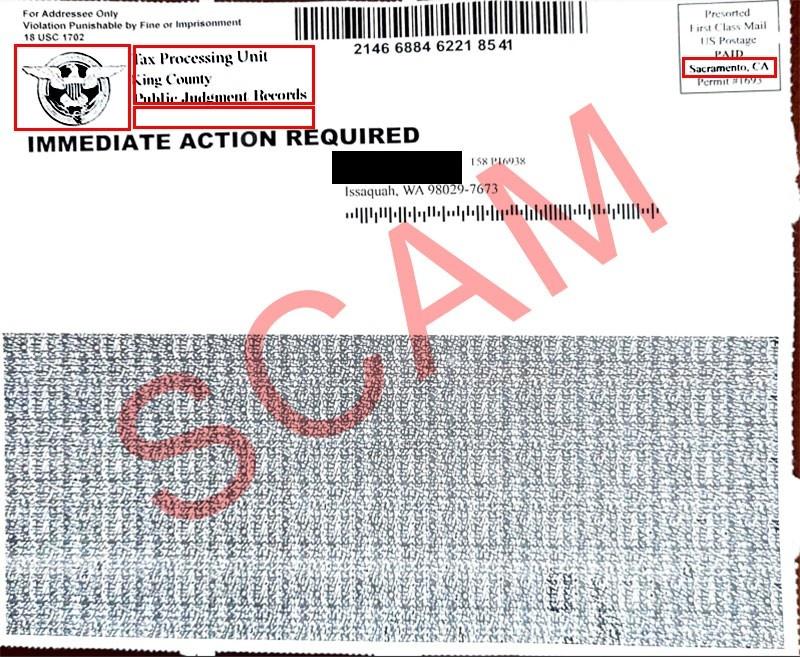 What Should You Do?
If you have received a letter such as this, we urge you to help raise awareness of this scam by alerting the government officials and fellow residents.
File a Complaint with the Washington State Office of the Attorney General
Share this Post on Social Media
Let your neighbors and fellow King County residents know that this scam exists. There are those out there that do not have the experience, ability or resources to identity a scam and may fall into their trap.
Scam Letter Content:
Tax Resolution Unit
King County
Public Judgement Records(800) 219-9554
Distraint Warrant
This warrant has been issued against the above named debtor(s) because of the tax debt that has not been paid in full. This is not an arrest warrant. This warrant serves the same function as a court judgement. The Federal Tax Authorities uses the warrant in collection action, such as garnishment of wages and bank accounts, property seizures, federal tax refund offset, and creation of a property lien. To avoid enforcement, call (800) 219-9554 by 5/27/2022.
NOTE: Interest will continue to accrue until the $198,235 balance is paid in full
This warrant acts as a judgement against the debtor(s) and is a lien on any property now owned or acquired in the future until the debt is paid in full. This letter has been sent to [name] due to the unpaid taxes to Federal Tax Authorities. Levying procedures will begin within 15 days of it's receipt. You must respond by 5/27/2022, you must paid in full, or call (800) 219-9554 to avoid action.